P O R T F O L I O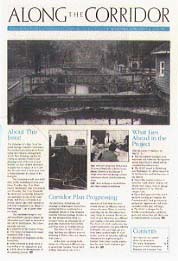 Delaware & Lehigh Canal National Heritage Corridor Commission
Mary Means & Associates
The newsletter updates residents on upcoming heritage issues concerning their community. The tabloid format uses lots of photos on the front page for maximum inpact on local news racks. Strong headlines and prominent subheads increase reader-friendliness.
CORPORATE
• Corporate Brochure
• Greeting Card
• Advertisement
• Study Guide
• Collateral
• Books
• Tri-fold Brochure
• Capabilities Brochure & Logo
GOVERNMENT
• Annual Report
• Public Brochure
• Newsletter
• Video Package
• Catalogue
• Magazine
• Flyer
NON-PROFIT
• Technical Manual
• Management Plan
• Children's Program
• Conference Brochure
• Magazine
• How-To Manual
• Annual Report
• Video Packaging
• Web Site
ASSOCIATION
• Membership Brochure
• Book Cover
• Conference Program